From the northern rainforests of Gumbaynggirr Country to the open plains and rocky ranges of the Wiljali, stretching across the largest Country in NSW, the Wiradjuri, and up to the alpine landscapes of the Maneroo, the original Landcarers have been working with Country and on country for millennia.
Across NSW, traditional and new Landcarers have been coming together to celebrate, heal and work on local landscapes through funding from the NSW Landcare Program's Working Together Program.
In the Upper Snowy Landcare region and Maneroo Country, the local Landcare community have been busy building stronger connections with the local Aboriginal community networks.
"We recently held a two-day on-country theory and show and tell workshop which helped bring adults and children together and aimed to develop an understanding of Maneroo country, its people, practices, perspectives, special sites and artefacts," said Upper Snowy Landcare Network Local Landcare Coordinator, Lauren Van Dyke.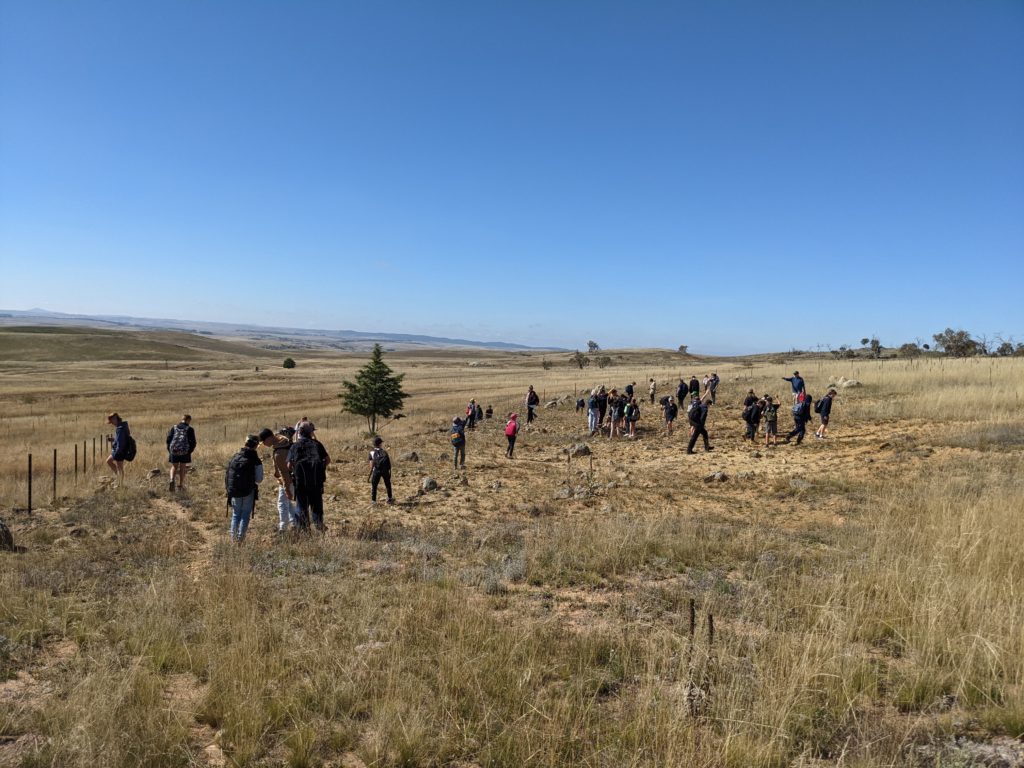 "The Upper Snowy Landcare Network recently commenced a lease on a significant part of the Gegezerick Travelling Stock Reserve – a grassy woodland overlooking the Monaro Plains and the little village of Berridale. While we were aware of the Aboriginal significance of this place (with anecdotal stories) we were informed during this workshop of its purpose as a traditional training ground."
"Led by Aboriginal cultural heritage expert's Aboriginal elders, Glen Morris, Chris (Snappy) Griffiths and Graham Moore, the knowledge that the Gegegedzerick Hill being a training ground for young indigenous people was welcome news indeed. Especially as on the second day we had more than 40 school children join in from the Trakz Program – an established program consisting of activities and experiences for Aboriginal and Torres Strait Islander students in Cooma to learn about cultural beliefs and practices on Country.
"The event helped us all begin to understand the land from an Aboriginal perspective and the key information gathered will assist in the future management of the Landcare site. Opportunities to build and strengthen the connection with local people and the local landscape is at the core of what 'Landcare' is", Lauren said.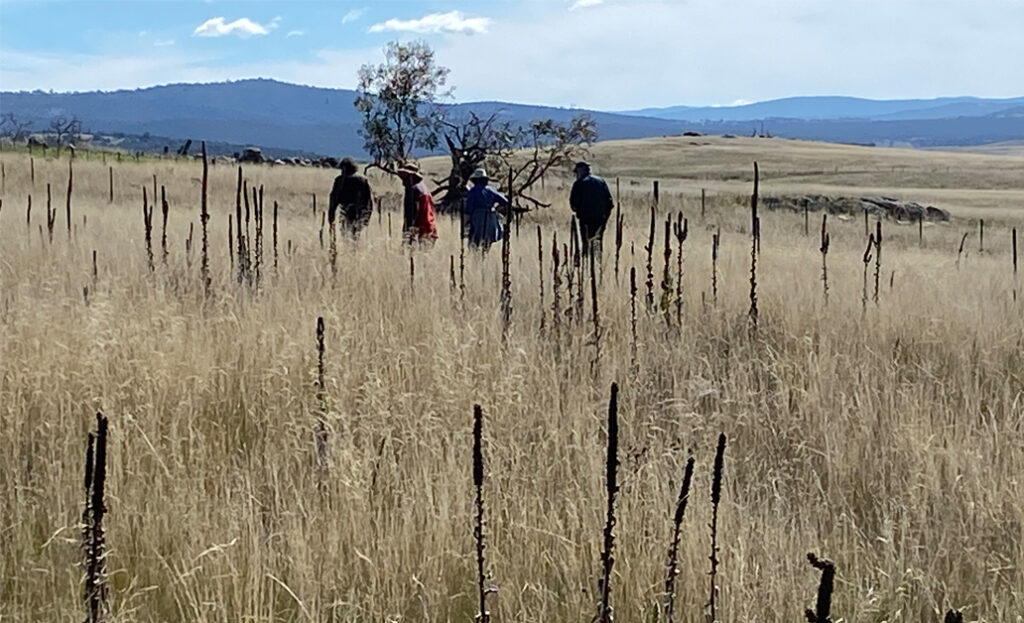 Up in Gumbaynggirr country, North Coast Regional Landcare Network held a three-day event that included developing and exploring cultural knowledge within the region, and ways to move forward in line with the work Traditional Custodians have been undertaking for generations.
North Coast Regional Landcare Coordinator Josh Keating said the event and outcomes were a chance to identify opportunities to initiate and strengthen ties between the local Landcare community and Aboriginal groups and organisations.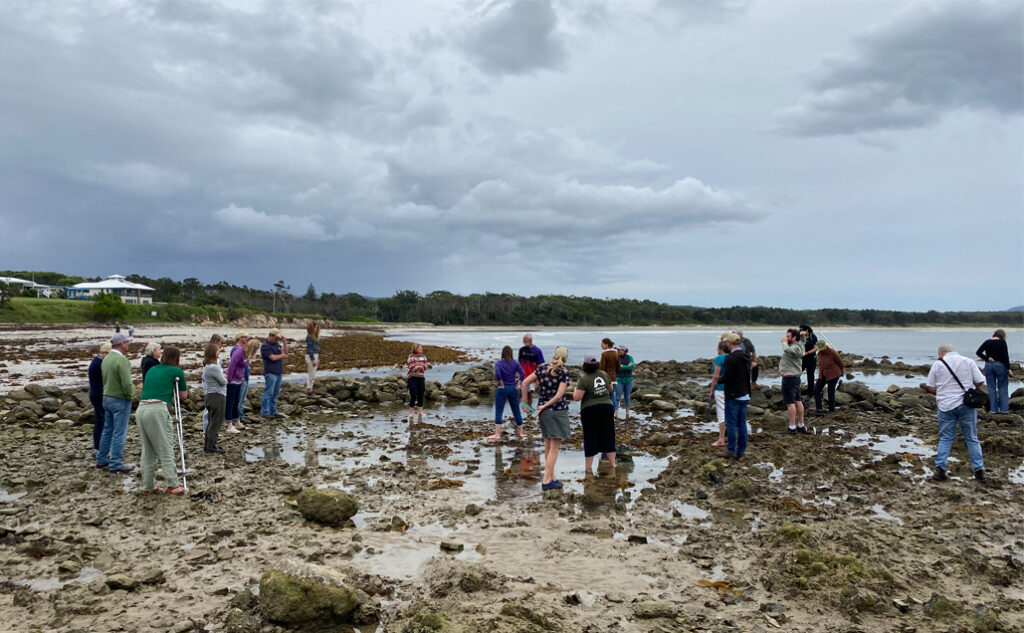 "Our event was part of our annual Regional Gathering and we weaved together the theme of Working Together: past, present future throughout the event. It was a opportunity to focus on what work has been done in the past between Landcare groups and Aboriginal communities, what is currently being jointly delivered and what we would like to do in the future.
"It was great to see that there is a common goal by participants across the region to embrace the opportunity to learn how we can better work with Aboriginal communities in our local areas. Additionally, at a regional scale, to learn about people's connection to their country and take those learnings away and inform how we can work with local Aboriginal groups in our area.
"The North Coast Region follows Landcare NSW's recognition that Aboriginal communities are the original Landcarers and we are all focused on caring for the land, environment and communities in our region and building a sustainable approach to the future.
"One of our strongest outcomes was the acknowledgement that our work will be strengthened with an application for funding put forward for a Regional Aboriginal Engagement Officer who will help local networks and groups connect with relevant groups, organisations or Traditional Owners.
"Both communities have a great opportunity to engage with one another and share one another's knowledge and experience for mutual learning. The things that Landcare can offer to Aboriginal communities include capacity building and increasing knowledge of technical skills regarding environmental management. Whereas Aboriginal groups can provide cultural knowledge and locally specific information that helps Landcarers understand how they can better manage their land. This will strengthen all our works in supporting our local environment and communities.
"This is one of the most valuable things about community connection; it is about getting people together to connect and seeing how we can evolve from there," Josh said.
NSW Landcare Program Community Aboriginal Engagement Officer, Craig Aspinall, said the 2021 theme of 'Healing Country' and the wider theme of seeking greater protections for our lands, waters, sacred sites and cultural heritage from harm, highlights how Landcare and Aboriginal community organisations have a joint purpose and can grow together to care for country and the communities that live on the land and waters.
"Across the state NSW Landcare groups and community organisations have been working with Aboriginal community organisations with the shared objective to build knowledge and understanding and work for the betterment of our environment. The Working Together Program is just one way Landcare NSW is supporting and connecting with traditional landholders.
"Continuing to grow together through cultural and environmental understanding will ensure that future generations will have the knowledge and understanding of the connection between the health of our environment and our communities and how it is all intertwined," Craig said.
This initiative is made possible by the NSW Landcare Program.
A collaboration between the Local Land Services and Landcare NSW Inc. supported by the NSW Government.