At Lake Cargelligo in western New South Wales, a local youth group helps with ecological monitoring of the big lake and the islands within it by camping out at least four times each year.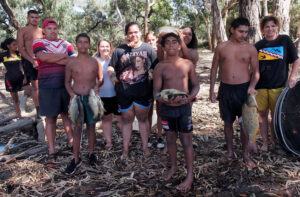 The monitoring is run by local biologist and Landcare Coordinator Adam Kerezsy, and local farmer (and chair of the not-for-profit Cargelligo Wetlands and Lakes Council) Peter Skipworth. Adam and Peter always try to get extra experts along to share the fun, and in February 2023 this task fell to Thomas Munro, an ecologist with the Biodiversity Conservation Trust.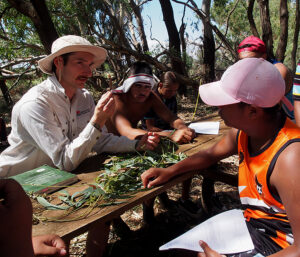 Tom made the long trek across from Dubbo and showed the Trackers how to identify plants using maps, books and identification keys.
With the temperature up over 40 degrees, they then hit the water with a combination of techniques including dragged seine nets and funnel-shaped fyke nets that were set overnight.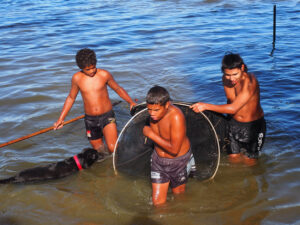 Unfortunately, the results were as expected: thousands of carp, from youngsters around 50mm long to monsters up over 500mm. As most people are aware, the recent flooding has resulted in a massive boom in carp numbers. This is in contrast to Down The Track results over the last two years, where carp were only one of six or seven species that were sampled.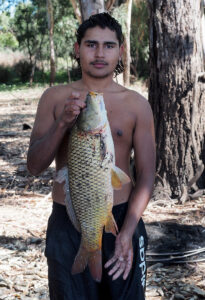 The camp was as happy as usual, despite the arrival of at least one brown snake and a quick trip to Lake hospital when the treble hook on a lure ended up embedded in an ear. It seems there was no major damage and the unlucky patient returned within an hour or so and resumed fishing.
Hopefully the Lake system will return to normal as the effects of the flooding subside. There's no doubt that Down The Track will be there to monitor these changes, especially given they are now supported by a wide range of organisations, ranging from Landcare to the University of Canberra and government agencies.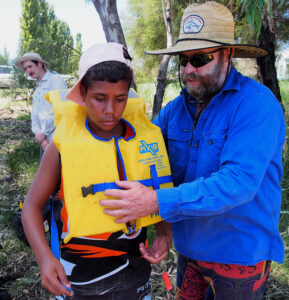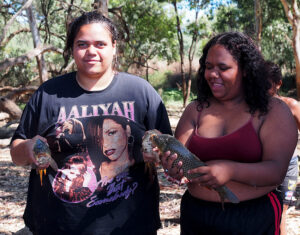 This initiative is made possible by the NSW Landcare Program. A collaboration between Landcare NSW and Local Land Services, supported by the NSW Government.