Tuesday, 2 August 2022
National Tree Day celebrated by planting of 80,000th tree in Parramatta
A major milestone for community Landcare was met during National Tree Day at the weekend with the planting of the 80,000th tree as part of the Creating Canopies in Greater Sydney project.
Facilitated through a partnership between NSW Government, Landcare NSW and Greater Sydney Landcare Network, the tree planting in Parramatta, held alongside an event in Blacktown, was the latest in a long list of planting activities completed across Sydney over the past two years.
The Creating Canopies team are on track to not only meet, but exceed, their target of 100,000 trees planted by the end of 2022.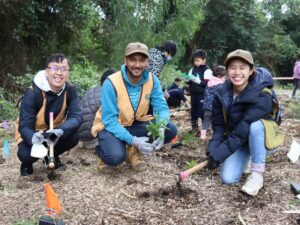 With over 600 people attending the event, Greater Sydney Landcare Network Chair, Bev Debrincat said this milestone and groundswell movement was a testament to the hard work undertaken by staff and volunteers and the importance of partners collaborating to grow and create green spaces across Sydney.
"Green spaces and community engagement are crucial in the health of our communities and our environment. We are building on the fantastic work from previous National Tree Days at the Parramatta site and this will ensure we continue to create valuable habitat for birds and other wildlife.
"Western Sydney is a priority area for our project and the serendipity in being able to plant our 80,000th tree in Western Sydney is fantastic," Bev said.
Landcare NSW CEO, Turlough Guerin, said Landcare NSW and Greater Sydney Landcare Network are proud to partner with the Department of Planning and Environment in Greening our City.
"Landcare NSW works with community groups across the state to improve the health of our environment and communities. Green spaces aren't just beneficial in providing habitat for our native flora and fauna, they're also linked to stronger, healthier, more resilient communities.
"This project helps support our community's health and well-being but also the protection of our native plants and animals by providing much needed habitat."
The trees have been planted as part of the Greening Our City program, to increase the tree canopy and green cover across Greater Sydney.
Funding has been provided to Landcare NSW and Greater Sydney Landcare Network as part of the NSW Government's partnership with Landcare to plant 100,000 new trees across Greater Sydney.
The plantings in Parramatta and Blacktown have been coordinated by Greater Sydney Landcare Network in conjunction with Councils, local Landcare, Bushcare and community groups.
ENDS
Media Contact:  Samantha Stratton
communication@landcarensw.org.au  / 0487 767 955