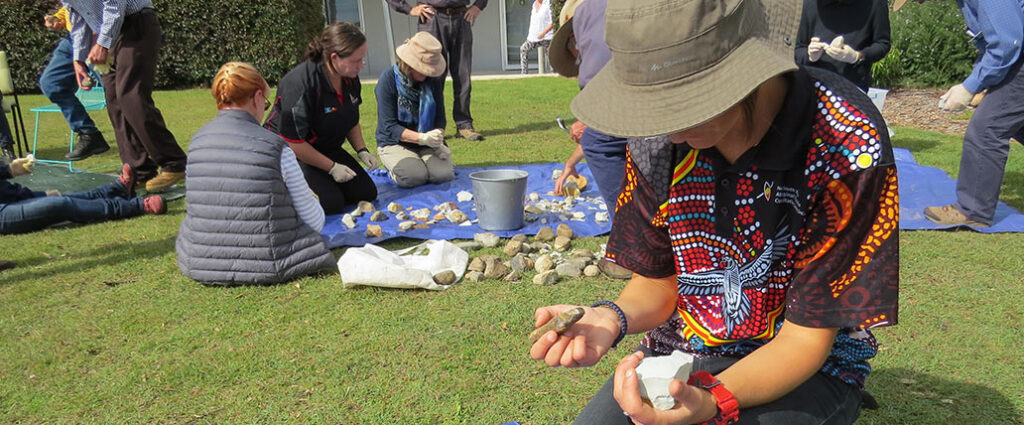 Information courtesy of Hunter Region Landcare
In 2021, Hunter Region Landcare began working collaboratively on a number of cultural projects and programs to help them better understand Aboriginal culture in the Hunter region past and present, and to see how they could incorporate this knowledge into their everyday Landcare operations.
By hosting workshops and field days, they found that it would provide them with practical knowledge and skills about places and artefacts of significance that may be find on Landcare sites or farm property. Topics such as how to recognise artefacts such as stone tools by participating in a stone napping activity; what to do if we do find an artefact such as a scar tree, stone tools, middens, etc; the legislation around places and objects of cultural significance were covered with all participants helping grow local knowledge about the significance.
"It was important for us to share, learn, and understand our Aboriginal cultural heritage within the Landcare community, and these workshop provided a way to get started. We had 30 participants in our first workshop field day."
"Landcarers and farmers that we work with share a genuine interest and passion in caring for our land, rivers, sea and sky, caring for country, so already we have a shared bond with our local Aboriginal community," says HRLN representative.
The workshop is funded under the "Working Together" Program which aims to increase opportunities to consciously develop stronger connections and partnerships between Landcare groups and Aboriginal Communities.
The "Working Together" Aboriginal Communities Engagement Program is an initiative made possible by the NSW Landcare Program. A collaboration of Local Land Services NSW and Landcare NSW Inc. supported by the NSW Government.
This story was originally published as a report via the NSW Landcare Program Website – NSW Landcare Gateway. To view click here