2015-19 Local Landcare Coordinator Initiative
The NSW Government has provided $15 million over four years to nenew the government-community relationship and unlock the full potential of the thousands of volunteers in the Landcare network.
The program reflects the sentiment of the Memorandum of Understanding between Local Land Services and Landcare NSW.  It has been designed to put Landcare on a more sustainable funding footing, with the majority of the funds going to community-based local coordinator positions.
It is a new commitment to support regional Landcare Networks and local groups and will not be allocated for on-ground works.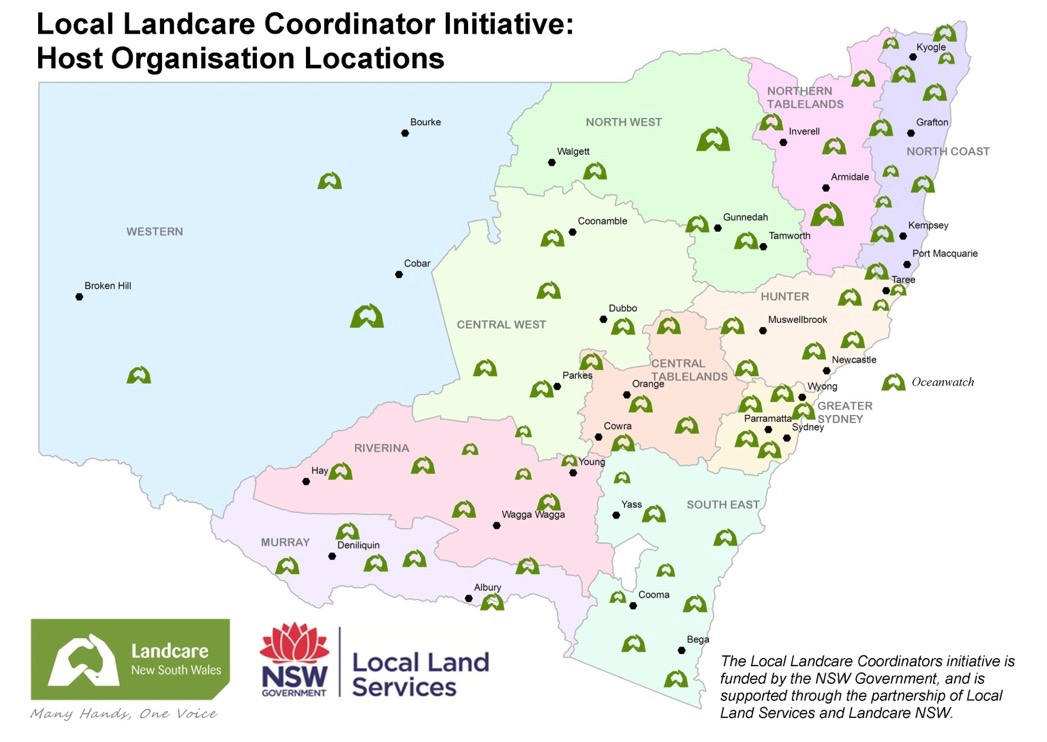 Information for Coordinators and Host Organisations
Updates from Local Land Services and Landcare NSW regarding the 2015-19 Local Landcare Coordinator Initiative will provide information for Coordinators and host organisations.
Updates will be added below as they become available.
Update1 Introduction to Initiative
This Update is the first in a series of communications with coordinators and host organisations.  Introducing the State Landcare Coordinator and the Manager Landcare Program.
LLCI funding recognition guidelines
In all materials relating to the Local Landcare Coordinator Initiative, there should be recognition of the NSW Government as the funding source.  The Guidelines document provides more information about
Funding recognition
Use of acronyms
Use of logos
Update 3 Monitoring, evaluation, reporting and improvement
This document provides important information regarding
MERI – Why
Reporting requirements – What and How
Six monthly reporting (May and December)
Annual report cards with case studies
Submission of reports
Reporting and Annual Planning
Six monthly reporting (May and December)
The six monthly reporting asks groups to develop a plan and monitor their performance against this. The reports will be used by the program to determine where host organisations may be having difficulties (whether at the individual or regional scale) in order to provide targeted support, and to provide accountability with milestones and finances.
The six monthly reports will consist of:
Part 1 Agreement details and Financials – Grantee to complete
Agreement details (agreement number contact name etc )
Financial Report (overview of how funds have been spent);
Declaration by the Grantee (contracted organisation)
Part 2 Progress and outputs – Host organisations to complete [to be completed for each Local Landcare Coordinator position]
Details of the Local Landcare Coordinator employed;
Attendance at state and regional level Community of Practice activities;
Media and communications
Progress – Opportunities and/or difficulties.
Annual plan
Declaration
Annual Plan
The annual plan should be developed by each host organisation that is supported by a coordinator. The annual plan is a plan for the group or network, not just a work-plan for the coordinator. Where a regional contract exists for several part time positions it is expected that an annual plan for each of the positions is developed in conjunction with the local host organisation, and that the regional contractor will append these plans to the six monthly reports they submit.
You will need to be working on developing the annual plan, for each host organisation that supports a coordinator, so that these are ready for attachment to the report on 31 May 2016. Assistance is available to help you develop your annual plan if you don't already have a process. There are many useful resources to assist in developing an annual plan (or action plan) including http://www.vlc.org.au/assets/files/resources/1%20Landcare%20Group%20Action%20Plans%20020513.pdf
This Excel template, 'LLCI Annual Planning template', is provided to assist with development of annual plans, if you already have your own format for an annual or action plan then you may use that as long as it contains the same elements.
Please contact your Regional Landcare Facilitator for assistance and Landcare NSW is also available to provide support or training workshops on a regional basis if required.