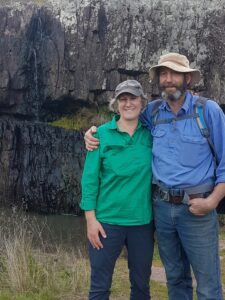 To leave a lasting legacy, you have to first envisage what kind of legacy you want to remain. For Bronwen Newman and Andrew Naylor of 'Mt Belubula' in the NSW Central Tablelands, it was one of a flourishing natural environment, that worked alongside a sustainable and profitable farm for future generations to enjoy.
With an in-perpetuity agreement for 105ha with the Biodiversity Conservation Trust (BCT), Bronwen says the thriving flora and fauna in their exclusion areas is a testament to how co-existence can occur.
"We are planning for the future. We feel it is our responsibility to leave the land in better shape or certainly enhance it for future generations. With this in mind, we decided that our conservation work should go with the farm, whoever runs it, and an in-perpetuity agreement ensures this and helps the next landholder financially.
"When we entered an agreement, we had land that wouldn't sustain high stocking rates but was part of an endangered ecological community and supported many threatened species. So, we put in a tender and the BCT staff came and worked with us and thus began the process.
"We need to all be a part of this process to improve and protect our environment and Landcare can help every step of the way. We hope future generations will gain a stronger understanding and protect our natural assets.
"Our conservation efforts have helped with the regeneration of native plants which then encourages native wildlife and creates sustainable agriculture. But also, simply, it's really lovely to go out and see what species of flora and fauna are coming back since we began the exclusion area and these incredible seasons," said Bronwen.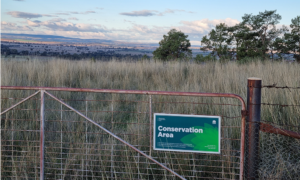 Bronwen and Andrew's farm contains the critically endangered grassy box woodland and provides habitat for a range of threatened species such as the superb parrot and Glossy Black-Cockatoo.
"We've been involved with Mid Lachlan Landcare for many years and our Local Landcare Coordinator Tracee Burke is just fantastic. She put us in contact with the BCT so the collaboration between the two organisations is fantastic as it builds on all the work we do.
"Landcare offered us support in helping achieve protection of land areas which had been degraded by misuse over a long period of time. Our involvement in local Landcare has provided us with a variety of options and grants to help farmers such as ourselves with different projects which enhance our ecology and help us become more sustainable.
"Our work with Landcare and BCT is both supportive and encouraging in helping us achieve our goals of future sustainable farming."
To find out more about the Biodiversity Conservation Trust click here or to find out about the partnership project, Partnering in Private Land Conservation, between BCT, Landcare NSW and the NSW Landcare network click here.