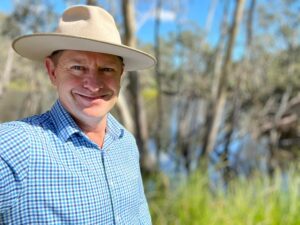 BY Landcare NSW CEO, Turlough Guerin
With the devastation we have seen on the North Coast and other parts of the state through flooding on a scale we've not witnessed or experienced before, we are all asking ourselves 'How can we help?' 'How can we get money on the ground where it is needed most?'
After the catastrophic bushfires in 2019-2020, there was community disquiet with how some donor funds collected by the many charities involved were distributed. Specifically the revelation that frequently, the proportion of funds reaching communities was too low as a proportion of total donations. Communities and donors must be confident that their funds are going where they expect them to go, and not on excessive administration costs.
Landcare NSW is a registered charity and prides itself on ensuring that funds are distributed to landholders and Landcare groups on the ground where it is needed most.
As a coordinated network of groups supported by a central team, the organisation provides a diversity of "ecosystem services" helping to restore and remediate and where possible prevent and protect our precious ecosystems from future climate events through our member groups, distributed across the 11 geographical regions that stretch across NSW. This diversity, along with our local embedded community presence, gives us our unique position in the conservation and land management sector.
One reason for the success of the Landcare movement and its attraction to granting bodies and fund donors is the effectiveness of dispersal that occurs when investments are made into our programs. For example, during the recent bushfires of 2019-2020, Commonwealth funds were able to be leveraged through a program managed by a partnership between the National Landcare Network, Landcare Australia and the Peak Landcare State and Territory Landcare organisations, demonstrating that excellent projects and outcomes for improved delivery of bushfire recovery actions are achieved when Landcare is engaged and supported through donations. Landcare NSW has helped to ensure emergency funding was directed to 55 individual Landcare groups along the east coast. This was able to be done rapidly and efficiently.
Independent studies on the leveraging contribution the Landcare movement makes have shown that for each dollar invested into the organisation – in addition to the social and community dividend provided by enabling and engaging local communities – there is a financial return of at least $6. Last year alone, investments into Landcare NSW of $5 million resulted in revenues across the state of $30 million. These revenues were all literally ploughed back into the mostly regional communities in which they were earned.
Typically, we do not operate on donations. We participate in contestable grants across a diverse range of land conservation and productivity areas, competing with government funding from the State and Commonwealth. In the event of a disaster, any funds donated to Landcare NSW, that is 100% of the donations received, are re-directed back into the groups and communities that are impacted by that natural disaster. This 100% pass-through of donations is a critical factor and attribute of our organisation. Because of the way in which we have set up our central team and distributed group model, we do not carry administrative costs for the disbursement of donations.
Landcare NSW, through its regions, networks, groups, and individual members, has a local affinity and presence with the people directly impacted by natural disaster events.
When there is an event, our people are there and are part of the impacted community.
During these floods, we are seeking donations once again to support these communities and landscapes to recover.