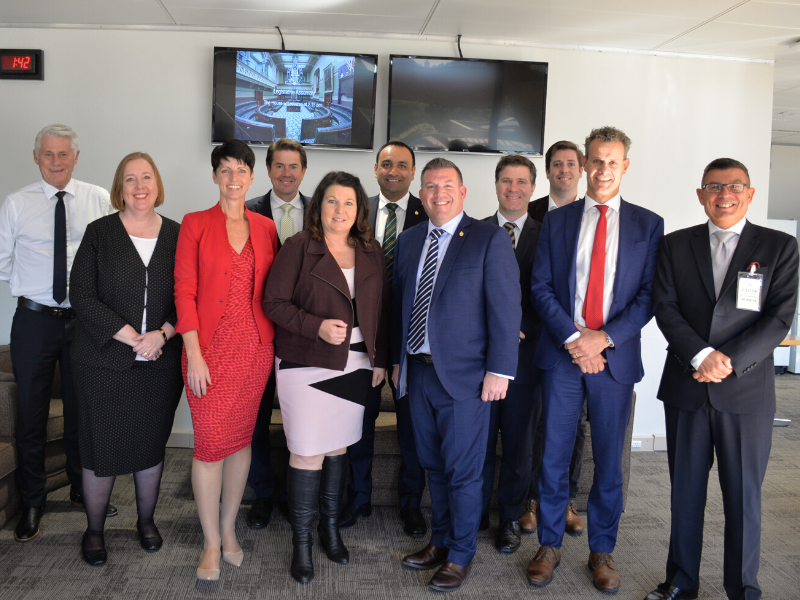 The NSW Parliamentary Friends of Landcare (PFL) provides an avenue for Members of Parliament to connect with and offer support to Landcare both at the state level and locally in suburbs, regional towns and farming communities.
A cross-party group of NSW Members of Parliament in support of Landcare, the PFL was established in 2015 as an outcome of the Sustaining Landcare campaign prior to the 2015 State Government election.
The PFL continues a longstanding tradition of multi-party support for Landcare with all political parties represented.
We offer the NSW Parliamentary Friends of Landcare access to:
Hardworking people, committed to the stewardship of our natural resources,
Landcare groups that get the job done – restoring and protecting natural resources and strengthening local communities,
A network that crosses all boundaries: local, regional and state, social, gender, age, cultural background – a lifeline to maintaining the resilience of rural communities.
Members of NSW Parliamentary Friends of Landcare
Office Bearers
Dugald Saunders MP – PFL Chair (Member for Dubbo)
Mick Veitch MLC – PFL Deputy Chair
Tamara Smith MP – PFL Secretary/Treasurer (Member for Ballina)
Members
Jenny Aitchison MP (Member for Maitland)
Kevin Anderson MP (Member for Tamworth)
Stephen Bromhead MP (Member for Myall Lakes)
Roy Butler MP (Member for Barwon)
Yasmin Catley MP (Member for Swansea)
Justin Clancy MP (Member for Albury)
Steph Cooke MP (Member for Cootamundra)
Mark Coure MP (Member for Oatley)
Tim Crakanthorp MP (Member for Newcastle)
Victor Dominello MP (Member for Ryde)
Philip Donato MP (Member for Orange)
David Elliott MP (Member for Baulkham Hills)
Justin Field MLC
Ben Franklin MLC
Jodie Harrison MP (Member for Charlestown)
Sonia Hornery MP (Member for Wallsend)
Matt Kean MP (Member for Hornsby)
Adam Marshall MP (Member for Northern Tablelands)
Joe McGirr MP (Member for Wagga Wagga)
Fred Nile MLC
Dominic Perrottet MP (Member for Epping)
Peter Primrose MLC
Geoff Provest MP (Member for Tweed)
Janelle Saffin MP (Member for Lismore)
Paul Scully MP (Member for Wollongong)
Penny Sharpe MLC
Gurmesh Singh MP (Member for Coffs Harbour)
Wendy Tuckerman (Member for Goulburn)
Gareth Ward MP (Member for Kiama)
Kate Washington MP (Member for Port Stephens)