11 February, 2023
An extra $10 million has been committed to tackle urban heat in Greater Sydney, enabling the planting of a further 400,000 trees over the next three years.
Funding has been awarded to Landcare NSW and Greening Australia, which will each plant 200,000 trees in areas with low canopy cover, including parks, schools, and community spaces.
Landcare NSW CEO Turlough Guerin said they were thrilled to continue working with the Department of Planning and Environment to create a greener city.
"The expertise of our volunteers will be important in ensuring that appropriate sites are chosen, correct tree choices are made, and trees are planted with the best chance of survival," said Dr Guerin.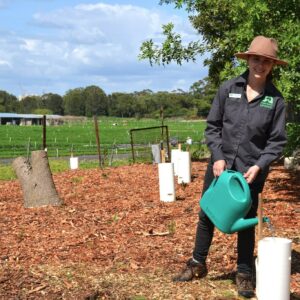 "With the support of the Greater Sydney Landcare Network, we will be planting a further 200,000 native trees and additional companion plants to increase habitat across Greater Sydney from 2023 – 2025. Landcare brings people and nature together, by raising awareness, hosting planting events and supporting the Greater Sydney community to get outside and get involved to help create healthy green spaces for residents and native wildlife to live in and enjoy together.
"Landcare is a unique and trusted volunteer movement, helping to facilitate long term involvement by the community in urban ecological programs by removing barriers and encouraging Sydney residents to participate in this valuable work and get their hands dirty wherever possible," said Dr Guerin
Minister for Planning and Minister for Homes Anthony Roberts said the Sydney Canopies Project will help support the larger scale Greening our Cities Program, which will see five million trees planted across Greater Sydney by 2030.
"We're on the way to achieving that goal, with one million trees already planted," Mr Roberts said.
"The Sydney Canopies Project will continue this fantastic momentum, with more than 350 new trees on average planted every day.
"These trees will help provide more shade, cooler suburbs, and enhanced liveability for our communities, with the ultimate aim of increasing Sydney's tree canopy cover to 40 per cent by 2036."
Greening Australia Acting COO, Paul Della Libera said the partnership is helping connect people and nature for a greener future in Greater Sydney.
"It's fantastic to be able to expand bold initiatives to tackle urban heat in schools and communities, and we look forward to working with local partners to plant tens of thousands more trees towards rewilding Sydney," said Mr Della Libera.
The Sydney Canopies Project will be funded through the approved $60 million allocation from the NSW Climate Change Fund.