Photo shows: Mr Gurmesh Singh MP, Member for Coffs Harbour and newly elected Chair of the Parliamentary Friends of Landcare group with members of South Coffs Community Garden Inc. 
The NSW Parliamentary Friends of Landcare (PFL) group has a new Chair Mr Gurmesh Singh MP, Member for Coffs Harbour. The PFL brings together Members of Parliament from all political parties who have a common interest in supporting the goals of Landcare.
Landcare NSW CEO, Mr Turlough Guerin said "We welcome Gurmesh Singh as the new Chair and look forward to building on the great work that has been achieved through the PFL to date.
"Partnerships and bipartisan support for Landcare are crucial to sustaining a strong grassroots movement and strengthening Landcare's ties with our elected representatives is essential."
Mr Guerin thanked outgoing Chair The Hon Dugald Saunders MP, Member for Dubbo: "I would also like to take this opportunity to thank The Hon Dugald Saunders MP for the contribution he has made to Landcare at the local, regional and state level as he leaves his role as Chair of the PFL and takes on the portfolio of Minister for Agriculture and Western New South Wales," Mr Guerin said.
Tamara Smith MP, Member for Ballina has stepped down from her role as Secretary and Treasurer and the roles have been filled by newly appointed Secretary Roy Butler MP, Member for Barwon and Treasurer David Layzell MP, Member for Upper Hunter.
Mr Guerin expressed his appreciation to the new PFL team and to all MPs who have joined the PFL and shown their support for Landcare in NSW.
"The PFL provides an avenue for Members of Parliament to connect with and offer support to Landcare at the state level and locally in suburbs, regional towns and farming communities. MPs have the opportunity to celebrate the success of Landcare and to help the Landcare community respond to challenges and opportunities together," said Mr Guerin.
"It is an acknowledgement of the enormous contribution of the many thousands of 'hands on' community Landcarers across NSW who are committed to looking after their environments. Together our volunteers work to conserve our unique flora and fauna, restore our soils and waterways, and promote the adoption of sustainable land management practices."
"We look forward to sharing with the Parliamentary Friends of Landcare the many exciting local Landcare projects and activities happening in NSW and invite them to see firsthand the great work of our community Landcarers on the ground", Mr Guerin added.
Landcare brings people from together for the common cause of caring for our land, environment and communities and is a longstanding and successful volunteer movement.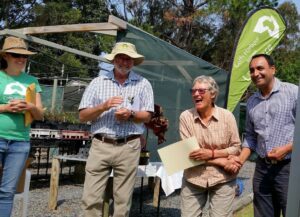 Mr Singh said, "As a big supporter of Landcare it is a privilege to lead the PFL and spread awareness of Landcare in the NSW Parliament.
"I have worked closely with Landcare groups in my area and this gives me more opportunity to convey their achievements and help progress their goals," he said.
Mr Singh encouraged MPs and MLCs who haven't already joined, to sign up to the PFL.
"Not only will local Landcare groups appreciate your support, but you will learn a lot and forge new connections throughout your communities," he said.
"Every weekend across New South Wales groups of people of all ages and backgrounds are doing their bit to look after and improve our environment," said Mr Singh.
Media enquiries:
Jodie Lovell | Communications & Stakeholder Relationships Specialist
Landcare NSW Inc.
T  0439 316 151 |  E jlovell@landcarensw.org.au