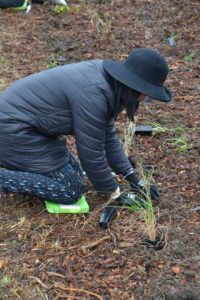 On Saturday 3rd September, the 100 thousandth tree was planted at Discovery Park, Liverpool as part of the NSW Government funded project  'Creating Canopies in Greater Sydney', marking the 81st site that has benefited from the project.
The NSW Government partnered with Landcare NSW to deliver the Creating Canopies in Greater Sydney project planting 100,000 trees through Greater Sydney Landcare.
The 100 thousandth tree planting has been a long time coming for the Greater Sydney Landcare community. The delays from the past two years of COVID restrictions and challenging weather conditions have meant that the Creating Canopies in Greater Sydney projects completion is a massive win for the community-based organisation.
Greater Sydney Landcare Chair, Bev Debrincat, said this milestone is a testament to the hard work undertaken by staff and volunteers and the importance of partners collaborating to grow and create green spaces across Sydney.
"We owe so much of this success to all the Sydneysiders who came out in droves to help us get the plants in the ground. This event marks the one hundred and sixty-third event held throughout the life of the project.
"We've engaged with nearly two thousand individuals who have joined us to plant over 200 different plant species and invest in their community through their participation in our project, and in Landcare. Engaging the community in their own local green spaces, fosters a sense of stewardship that will help protect these sites into the future. We've seen firsthand the impact green spaces have not only providing important habitat for wildlife, but also keeping Sydney cooler in the hot summer months," Bev said.
With a focus on Western Sydney to increase tree canopy cover, Bev says the diversity of locations across Sydney identify a further need to work with local communities to 'green' their community and protect local green spaces.
Facilitated through the partnership between NSW Government, Landcare NSW and Greater Sydney Landcare, the tree planting is just one of many that have been held across Sydney throughout the past year.
Landcare NSW CEO, Turlough Guerin, said Landcare NSW and Greater Sydney Landcare are proud to partner with the Department of Planning and Environment in Greening our City.
"Landcare NSW works with community groups across the state to improve the health of our environment and communities. This project helps support our community's health and well-being but also the protection of our native plants and animals by providing much needed habitat."
The plantings in Sydney have been coordinated by Greater Sydney Landcare in conjunction with local Landcare and community groups.
The trees are being planted as part of the NSW Greening Our City, program to increase the tree canopy and green cover across Greater Sydney. Funding has been provided to Landcare NSW and Greater Sydney Landcare as part of the NSW Government's $2.1 million investment and partnership with Landcare to plant 100,000 new trees across Greater Sydney.