A program to build community resilience is being delivered at Bellingen High School thanks to funding from the NSW Government's Bushfire Community Recovery and Resilience Fund.
Landcare NSW, Gotcha4Life and Surf Life Saving NSW (SLSNSW) have partnered to deliver the program with the aim of zero suicides by looking at all elements of resilience in communities where people are mentally and physically fit, connected to country, to nature and to each other.
Project Manager, Melanie Tyas said:
"As part of the project, one day each week a class at Bellingen High School takes place outside where the students help with habitat restoration, spend time with nature and connect with one another.

Whilst this project is targeted to bushfire recovery regions, the aim is to create connected and resilient communities by changing the way education is delivered in NSW schools.

A resilient community is one that can withstand and bounce back from natural disasters. With changing climates, more extreme droughts, bushfires and adverse weather events, we need to to help build strong resilient communities now more than ever and we can do that by bringing the community into the school and the school into the community.

Resilience isn't just about surviving fire. Resilience is the ability to face all types of adversity and have the tools to look after ourselves and those around us. This project aims to do exactly that to support Bellingen High School and the wider community."
The majority of the project is working with Bellingen High School on a pilot which sees students educated outside, in nature, using the available resources to teach across the curriculum.
Bellingen High School Acting Principal Tim Laverty said the benefits of this program will be far-reaching for the students.
"We need our students to become empowered, energised and contributors to the community. This program will give our children the tools to work on their resilience, to improve educational outcomes, the health of our environment and promote reconciliation," Mr Laverty said.
In addition to the program being delivered in schools, other elements of the project include:
Gotcha4Life will runs a series of workshops in the community and the local school,
The local Landcare group will partner with the school to provide on-site education, including propagation, planting, weeding, growing vegetables, nest box building etc. This will give the students an opportunity to get their hands in the dirt and benefit from the bacteria that raises serotonin levels; and
SLSNSW will also provide mental health first aid training to those who want to learn more.
Funding for this pilot program has been provided by through the Bushfire Community Recovery and Resilience Fund.
To find out more about the project, contact Melanie Tyas, Landcare NSW on mtyas@landcarensw.org.au.
Click here to explore a suite of Education Resources developed to support educators in NSW schools to engage meaningfully with the Eat Dirt program.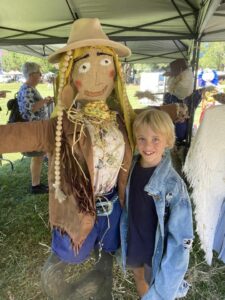 Eat Dirt build scarecrows for Bellingen Show