Berry Landcare was announced as Winner in the Conservation Champion category of the Kiama Electorate Community Recognition Awards at a ceremony in Kiama on Thursday 27th October, when the awards were presented.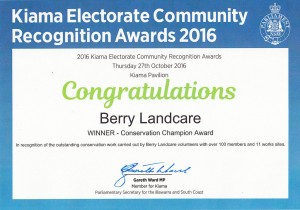 Both the local member for Kiama Gareth Ward MP, who hosted the event, and the Hon John Ajaka MLC, Minister with responsibility for Volunteering, talked up the value to our community of volunteers and thanked all volunteers for their contributions.  The Minister added that in NSW, volunteer efforts are worth at least $5 Billion a year, and suggested that the figure is probably double that figure.
NB: Two Landcarers were nominated as individuals and asked that their nominations be converted into one for the whole of Berry Landcare.