THERE ARE MANY WAYS YOU CAN GET INVOLVED WITH LANDCARE NSW
Landcare NSW is the peak body for Landcare in NSW which is a community grassroots movement dedicated to protecting and caring for our land, environment and communities. We believe in the power of many. The strength of our work depends on the thousands of Landcarers who put their caring hands into action to provide local solutions to our land and environment.
The projects Landcarers work on are varied! Whether volunteers are planting trees, managing coastal dunes or waterways, Landcare NSW works to ensure support and resources are provided for our member Landcare groups on the ground.
With an unmatched presence of Landcare groups in most communities throughout NSW, Landcare NSW has the network to implement state-wide projects targeting the social, environmental and agricultural needs for local communities across NSW.
We are not just about the environment and farming; we are also about our local communities.
We positively influence and inform farmers to become our greatest environmentalists through sustainable agricultural practices and food and fibre production.
*'Regions' and 'Coordinators' defined as per NSW Landcare Program & NSW Local Land Services boundaries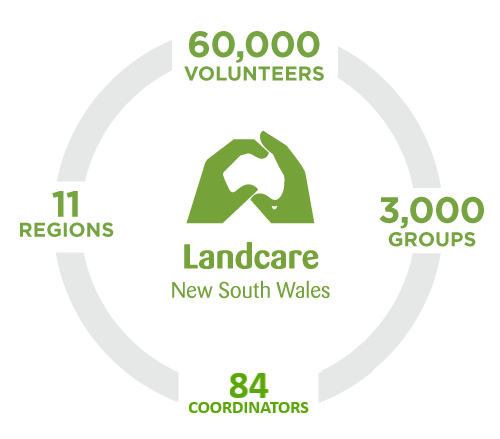 Landcare NSW works to ensure that the Landcare movement in NSW is recognised by Governments, Corporates, Philanthropy and the general community as the most effective, impactful and influential "go-to-vehicle" for the management of our land, environment and communities in rural and urban areas. We provide leadership, skills and resources to empower Landcarers in NSW to have all that they need to care for our land, environment and communities.
The Landcare movement is such as effective and unique "go-to-vehicle" because it consists of 60,000 pairs of hands working together to care for our farms, biodiversity and environmental sustainability. The work of Landcare groups across NSW is varied and particular attention is applied to areas that pose the greatest threats to our land, our environment and our communities. The skills and local knowledge attained by Landcarers is second to none which provide a very valuable resource to our communities.
Landcare groups provide a network of support to assist in the management of our natural resources sustainably in the context of a changing climate and the needs of a growing population.
ENVIRONMENTAL CONSERVATION
Landcare groups engage in methods of conservation to protect our environment, including activities that involve sustainable farming education and practices, restoring rivers and waterways, creating wildlife corridors and revegetating bushland.
Landcare groups assist local communities to provide education and implement best practice measures to reduce the invasion of threatening species to agriculture.
Landcare implements and maintains the health of natural habitats by controlling and eliminating threats. Landcarers provide knowledge and expertise to local communities for native vegetation conservation and land management through practical implementation and educational workshops.