Author: NSW Dept of Primary Industries Invasive Species Biosecurity Team
In September 2022, six Cane Toads were initially found and reported by a rural landholder in Mandalong area in the Hunter Region. The toads were found at the premises around the farm dwelling and surrounding sheds, and it is unclear as to origin of the animals to the site. To date a total of forty animals have been removed and humanely euthanised.
Despite Cane Toads being widespread in Queensland and areas of north-eastern NSW, Cane toads are considered a serious non-native invasive pest in NSW. A Cane Toad Biosecurity Zone exists in all areas of NSW except a portion of the north-east of the state.
The management of existing non-native invasive animal populations and preventing the introduction and establishment of new non-native animal species are key concerns for the NSW Department of Primary Industries (NSW DPI).
Cane toads have the ability to cause devastating impacts on our communities, native wildlife and ecosystems due to their ability to spread to new areas, use limited natural resources and to poison animals that try to eat them.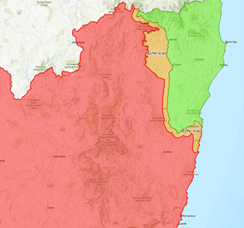 Cane toads can be accidentally transported to new locations via freight, including nursery products such as mulch and plants, and with travellers in camping and caravan equipment.
NSW DPI would appreciate the assistance of members of the Landcare network and community, including local industry such as nurseries and primary producers, that purchase plants, stockfeed and other materials from Cane Toad-infested areas (such as Qld and northern NSW), to be vigilant when receiving incoming deliveries by checking pallets, plants and containers that may accidently host a Cane Toad.
The Cane Toad Biosecurity Zone (Figure 1) consists of the buffer areas and cane toad free area. The green zoned area is where cane toads are established, there is no need to report cane toads in this zoned area. The amber and red zones are where cane toads are not established and if cane toads are suspected in these areas they should be photographed, contained, and reported.
Detecting and reporting Cane Toads: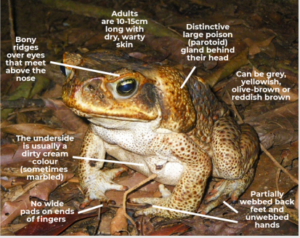 Become familiar with the identification and key features of a Cane Toad (refer to Figure 2)
Assess and quarantine your equipment/deliveries in a secure location or holding area (if possible) until the goods can be inspected for Cane Toads and other unwanted pests (as part of your biosecurity inspection process).
Thoroughly inspect and look through equipment such as caravans/trailers/camping equipment, pallets, potted plants, mulch and other materials for Cane Toads.
If you suspect that you have found a Cane Toad, please capture the animal and place it in a container with a lid.
Report the suspect animal to the NSW DPI Invasive Species Biosecurity team as soon as possible by one of the following options:
–  The online biosecurity concern reporting form found at: https://forms.bfs.dpi.nsw.gov.au/forms/9247
– Email – invasive.species@dpi.nsw.gov.au
– Calling the NSW DPI Biosecurity helpline on 1800 680 244.
Take a photo of the suspect animal to assist with the identification and response.
Keep the suspect animal in a cool, secure place until your report has been responded to and advice has been provided.
Please do not harm the suspected animal/s as it may be a native frog species that looks like a Cane Toad (Refer to Figure 3).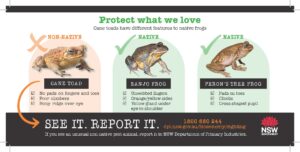 Be alert for Cane Toads, as they are particularly active over the summer months at night.
Landcare can assist NSW DPI by sharing information through their networks and raising the awareness of their members. It will be devasting for the remaining areas of NSW to become infested with Cane Toads due to their impacts to the environment, community and industry.
Opportunities may exist for Landcare members to become involved in dissemination of cane toad information to the community and on ground works as they arise. Reach out to NSW DPI through the invasive.species@dpi.nsw.gov.au mailbox or contact your Local Landcare Coordinator.
For more information regarding the Cane Toad Biosecurity Zone, refer to the NSW DPI website. Further information about other non-native animals of interest is also available at this website.
Resources:
Key identifying features of Cane Toads
Some mistaken native frogs as Cane Toads