NSW Parliamentary Friends of Landcare
Partnerships are crucial to sustain a grassroots movement
One of the outcomes of the Sustaining Landcare campaign prior to the 2015 State Government election was the establishment of a cross-party group of NSW Members of Parliament. The members of this group have indicated their support for the goals of Landcare.
The NSW Parliamentary Friends of Landcare (PFL) provides an avenue for Members of Parliament to connect with and offer support to their local communities in suburbs, regional towns and remote areas.
We offer the PFL access to:
Hardworking people, committed to the stewardship of our natural resources
Landcare groups that get the job done – restoring and protecting natural resources and strengthening local communities
A network that crosses all boundaries: local, regional and state, social, gender, age, cultural background – a lifeline to maintaining the resilience of rural communities.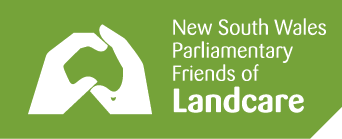 At the first meeting of the PFL: Rob Dulhunty, Chair Landcare NSW, Hon. Katrina Hodgkinson, Chair, PFL, Megan Rowlatt, Landcare Illawarra and Landcare NSW Council Member